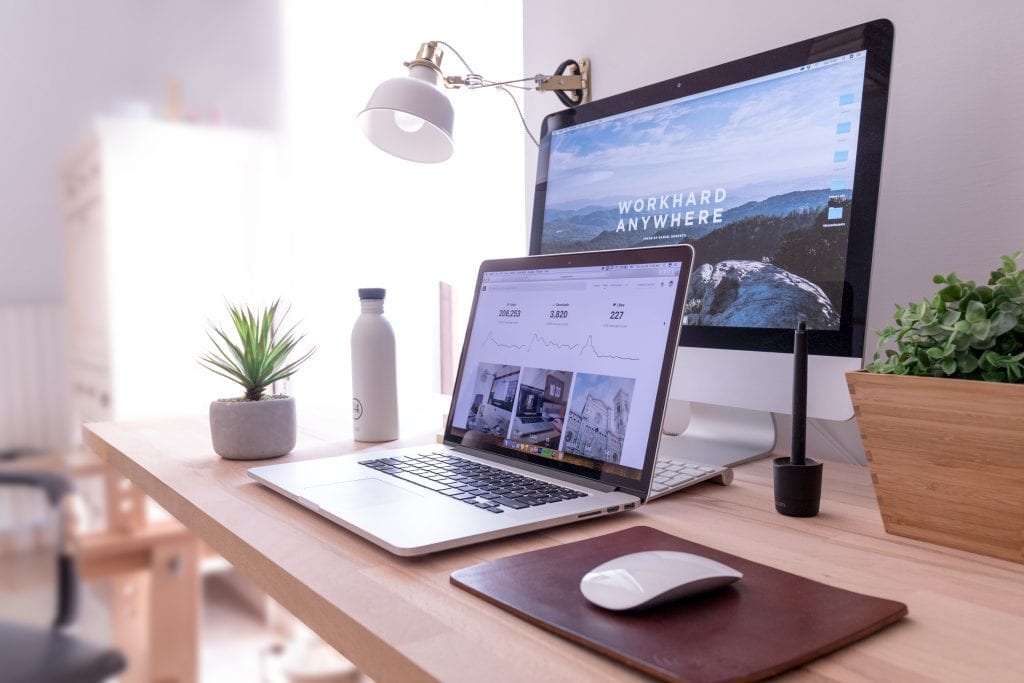 Getting Started with WordPress
January 15, 2020 by Troy
There is a lot to consider when building a new website, especially when it's your first time.
No worries, though! We are here to walk you through every step of the process from choosing which type of hosting is best for you to installing WordPress–and everything in between!
While WordPress is considered a "blogging platform" – with themes & plugins, you can easily customize it to make any sort of site you can imagine.
You can keep it simple with a personal blog, or create an awesome online store, or even teach online courses to students all around the world. The sky's the limit. 🙂
WordPress.com vs WordPress.org
The first decision you'll need to make is whether you'd like to go with WordPress.org or WordPress.com – and that will depend not only on your personal preference but also what type of site you are hoping to create.
A. WordPress.com
WordPress.com is a fully managed & hosted blogging service. It's actually run using a WordPress multisite installation (more on that later) and includes different plugins & themes for you to use. For someone just starting out, WordPress.com does offer a free blogging tier, so it's great for someone that just wants to write and doesn't need much customization. There are a few paid tiers of service that will unlock additional storage space (useful if you are posting a lot of content), as well as other premium services. You can read more about this on their pricing page.
There are some restrictions with WordPress.com. For example, you cannot use third party plugins & themes that you have purchased from other developers. You can only use what WordPress.com provides for you. You also can't use your website to sell goods or services and unless you pay for one of the monthly plans, there will be WordPress.com advertising and branding on your site.
B. WordPress.org
This is where the real fun begins! With WordPress.org, you are responsible for purchasing your own domain name and providing your own hosting services. You'll then install the (free) WordPress software on your server (more on that in a bit!). With this option, you can do pretty much anything you can imagine. You'll be able to use premium plugins & themes (like those included with your WPMU DEV membership 😉 ), and you can customize your site to your heart's content.
Going this route, you could create your own eCommerce store, fashion blog, gaming community, or even a photographer's or artist's portfolio. You could also set up your own multisite network, and create a small community like WordPress.com. It all depends on the amount of work you'd like to put into it, and how much server space you'd like to pay for.
Pricing for hosting services will vary, though, as does the level of support that your hosting provider can provide – but no worries. We'll walk you through the options available to you in the next section.
Choosing a Hosting Service
If you've decided that WordPress.org is the best fit for your needs, and you want all the power in your own hands – the next step is choosing a hosting service & provider. Below we'll go through the types of services that are available to choose from so that you can select the one that best meets your needs.
A. Shared Hosting
Shared Hosting is when the service provider serves pages for multiple Web sites–each with their own domain name, from a single web server. This is the least expensive option but can make it hard to scale and can bring with it slower page speeds and security issues.
This is a good option for someone that just wants to maintain a small, personal blog or doesn't expect to use many resources or have heavy web traffic.
If cost alone is your deciding factor, shared hosting is the cheapest solution.
B. Virtual Private Server (VPS)
With a VPS, you have your own set of dedicated resources partitioned off to you on a shared server. This means that the usage of other sites on your server will not effect your site's performance or security. It also is easily scaleable, meaning you can purchase a smaller plan to start with and then upgrade your package as you start to gain more traffic or use more of your storage space.
This is a great option for a lot of people but is usually more expensive than Shared Hosting.
C. Managed WordPress Hosting
If you like the power of a VPS, but need a bit more assistance from your host – a managed solution may be right for you. These options are usually VPS-based, but are offered by companies that specialize in WordPress services so they can offer you much more in the way of support should you have any questions.
This is a good, secure option, and pricing is usually between that of Shared Hosting and a VPS.
D. Dedicated Server
A Dedicated Server is ideal for a large company that expects a lot of traffic through their site. It's also a good fit for designers who may wish to host all of their client sites themselves. Even a hobbyist with multiple websites they manage for various interests or local groups might find this option most appealing if their sites have a reasonable amount of traffic.
With this option, you'll have the full resources of an entire server – but this comes at a cost, and these servers are usually pretty expensive. If you're a beginner, this is probably not where you'd like to start. But if your primary concern is performance, this may be the best option for you.
E. Cloud Hosting
Cloud hosting spreads your content across multiple servers to help ensure little to no down time. It is extremely scalable and you only pay for what you actually use. The increased uptime and security do come at a price, but this is an excellent option for those that need to make sure their site is always accessible.
F. What's right for you?
It really depends on your own needs and budget. Hopefully, the above points make it easier for you to narrow down which option is best for you and give you some things to consider while making your decision. You can view our hosting options by clicking here.
Setting Up Your Site
After you've selected your hosting service & provider, you're almost ready to get to the fun part! 😀
A. Purchasing a Domain Name
First, you'll need to select your Domain Name before proceeding. You can purchase your domain from a wide variety of Domain Registrars – and you do not have to use the same registrar for your hosting services, meaning you can shop around for the best deal. Be sure to read the fine print, though, because some Registrars may place limitations on where your site can be hosted.
When selecting your domain name, here are a few important things to keep in mind:
Make sure it's memorable – not only should your domain be easy to remember, it should also remind your customers or clients of your company whenever they see it.
Make it unique – don't choose a domain name that is very close to another. For example, if you would like to buy Unicorn.com and see that is already taken, don't buy Unicorns.com instead. This can make it easy for your guests to accidently end up on the wrong website and can lead to confusion (and maybe even loss of revenue).
Make it easy to type – similar to the points above, you want to make sure your domain doesn't have any words or special spellings that may confuse your site visitors.
Consider purchasing multiple domains – If you've purchased Unicorn.com, you may also want to purchase Unicorn.net & Unicorn.org too, and maybe even Unicorns.com for good measure. You can then set these additional domains up to redirect to your main domain, which helps to ensure that your visitors always end up exactly where you want them to be.
B. Setting up your Hosting Account
The steps for this will vary depending on the host you've selected, but the process is usually very straight forward.
You'll go to the company's website and select the pricing package that is right for you. If you've already purchased your domain from a separate Domain Registrar, you'll be given instructions on how to setup your account so that your domain knows where your site is hosted. You will also be given the option to purchase a domain directly from your hosting provider if you prefer.
When you're done, you'll usually be sent a confirmation email which will include the details on your site and any information you'll need in order to complete the registration process for your account.
C. Installing WordPress with "One-Click"
Many hosting companies will provide a "one click" installation option for the most popular website services, including WordPress. It'll look something like this:

D. Installing WordPress with the 5-minute Install
If needed (or preferred), you can also install WordPress manually. Here's a great video tutorial about that process:
E. Next Steps
If you have any questions, please browse our other tutorials or reach out to us directly. Otherwise, move onto the next sections to learn more about multisite (if you're interested) and how to install plugins & themes.
---
Originally published by WPMU DEV and written by Samantha LaRue | Last updated: December 14, 2016