What is: Tag
January 16, 2020 by Troy
Tag is one of the pre-defined taxonomy in WordPress. Users can add tags to their WordPress posts along with categories. However, while a category may cover a broad range of topics, tags are smaller in scope and focused to specific topics. Think of them as keywords used for topics discussed in a particular post.
In WordPress, if a user does not select a category for a post, then it is automatically filed into the default category. However, tags are not automatically added to a post unless a user adds them, which makes them completely optional, but there is not limit as to how many you can add.
Example: A post filed in the Book Review category can optionally have tags like Fiction, Mystery, Stephen King.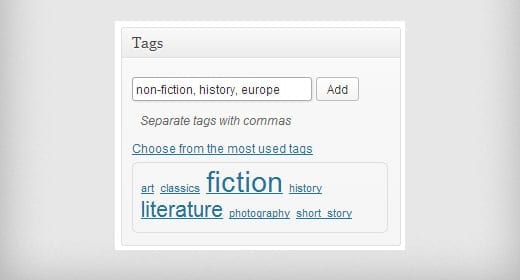 When a visitor clicks on a tag they are taken to the archive page where all the posts with that tag are listed. Tags can also be displayed in one of the sidebars using a widget.
Taxonomies provide an easy way to sort contents into topics. This helps website administrators and content publishers to organize their content. This also helps visitors in finding the topics that they might be interested in.
This post was originally published in the wpbeginner glossary.
Additional Reading