What is: Subdomain
January 16, 2020 by Troy
A subdomain is an additional part to your main domain name. Subdomains are created to organize and navigate to different sections of your website. You can create multiple subdomains or child domains on your main domain.
For example:
store.yourwebsite.com
In this example, 'store' is the subdomain, 'yourwebsite' is the primary domain and '.com' is the top level domain (TLD). You can use any text as your subdomain, but you want to make sure it's easy to type and remember.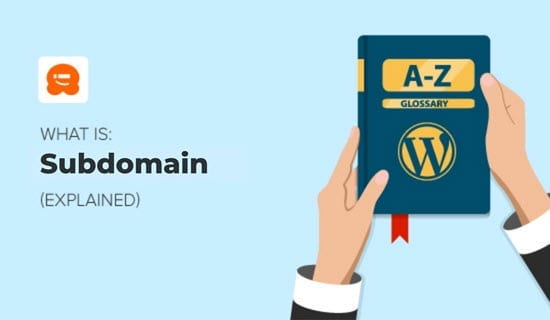 There are different reasons companies use subdomains. Let's look at some top use cases of a subdomain.
Use Cases of Subdomain
The most common use-case of a subdomain is for creating a testing or staging version of a website. Often developers will test new plugins and updates on a subdomain staging site before publishing them live on the Internet.
Another common use of a subdomain is to create an online eCommerce store. Often companies want a separate subdomain to handle transactions because eCommerce sites typically require a more complex set up.
We have also seen companies use subdomains for their mobile websites (m.yoursite.com), location-specific sites (uk.yoursite.com), and creating sub-sections of the website.
You can install WordPress on your subdomain, and it will work as a separate installation from your main website.
You can use a subdomain to serve a specific group of users on your site like 'guest.yourwebsite.com', 'user.yourwebsite.com', and more. This is how website builder platforms like WordPress.com, blogger.com, and others offer custom websites to users.
Subdomains can be very useful in organizing your website content more efficiently. The right use of a subdomain does not affect your main website's SEO. However, when in doubt, we recommend keeping everything on the same domain and avoid using a subdomain for public sites.
How to Create a Subdomain
You can easily create a subdomain in your domain registrar or your WordPress hosting account. In this example, we will create a subdomain using our hosting company Bluehost, but the process is similar in all platforms.
To create a subdomain in Bluehost, you must log in to your web host account. Then click on the "Domains" tab on the left. This will open a submenu with several options.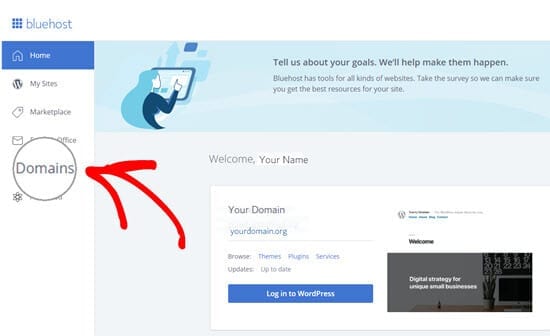 Now, click on the "Subdomains" tab on the list.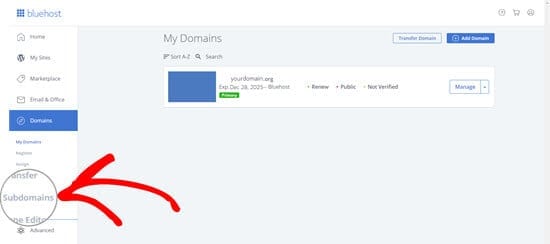 The field on the right contains your domain name. You will not have to change anything if you only have one domain on your web hosting account. If you have more than one domain, then it will be listed in the drop-down menu. In our example, we only have one domain, "yourdomain.org".
Next, type a name for your new subdomain in the field on the right. You can enter things like blog, gallery, store, or whatever you want to use. For this example, we will use "demo".
Once you've typed in the name for your subdomain, click the "Create" button.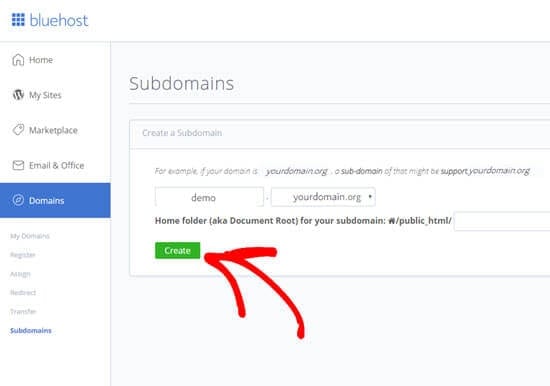 You will immediately see your new subdomain at the bottom of the screen. Your subdomain address will now appear on the front of your domain name. Using our example, it changed from "yourdomain.com" to "demo.yourdomain.com". Notice that your new subdomain fills in automatically on the home folder field for your subdomain.
Congratulations! You've just created your first subdomain.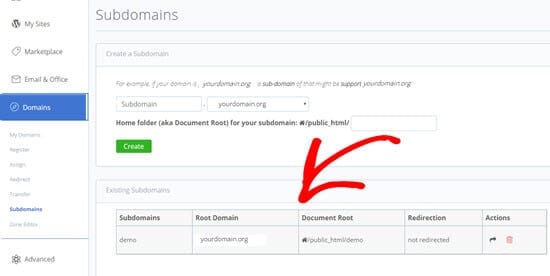 Subdomains vs Subdirectories for SEO
Search engines view subdomains and subdirectories differently. Let's look at why this is true, and how using a subdomain vs a subdirectory affects SEO.
Subdomains are seen by Google and other search engines as a different website. This means that search engines must crawl and index each subdomain separately.
It is important to remember that the "link juice" created from backlinks to your main site are not shared between your domain and subdomains. Building page rank for keywords for a subdomain is just as difficult as it is for an entirely separate website.
You should only use subdomains if you have a good reason to do so. For example, you can use subdomains to rank for different keywords, target a specific market, or reach a different location or serve a language other than that of your main website.
Subdirectories are files found under your primary domain. Google and other search engines do not see subdirectories as separate sites, so "link juice" and SEO are shared between your domain and subdirectories.
For bloggers, startups, or small businesses with limited time and resources, using subdirectories will help you rank your website faster than using a subdomain.
This post was originally published in the wpbeginner glossary.
Additional Reading