What is: SSL
January 16, 2020 by Troy
SSL is an abbreviation used for Secure Sockets Layers, which are encryption protocols used on the internet to secure information exchange and provide certificate information.
These certificates provide an assurance to the user about the identity of the website they are communicating with. SSL may also be called TLS or Transport Layer Security protocol.
In most modern web browsers, users can click on the SSL icon displayed in the address bar to view certification, identification and other information about a website.

If you are running an eCommerce website, membership site, or any site that requires user to either submit a payment or login, then you must use a SSL certificate.
If your website is not using a SSL certificate, then Chrome and other modern browsers mark it as Not Secure.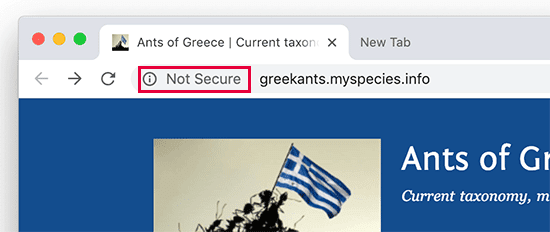 As a website visitor, you should proceed with extreme caution on websites that have a Not Secure label. We recommend that you do not give them any personal information.
How Does SSL Work?
SSL protects information by encrypting the data transfer between a visitors browser and the website.
When a user visits an SSL/HTTPs website, their browser first verifies if the website's SSL certificate is valid.
If everything checks out, then the browser uses the website's public key to encrypt the data. This data is then sent back to the intended server (website) where it is decrypted using the public key and a secret private key.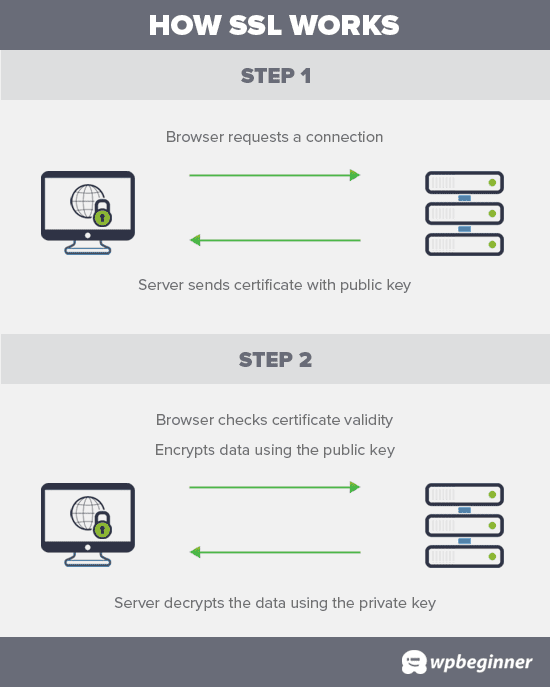 How to get a SSL Certificate for your website?
Most of the best WordPress hosting companies are now offering their users free SSL certificates.
If your hosting provider does not offer a SSL certificate, then we recommend using Domain.com to purchase a SSL certificate.
They're one of the most popular domain registration service in the world, and they offer the most affordable SSL prices.
Their SSL certificates come with $10,000 security warranty and a TrustLogo seal. After you have purchased an SSL certificate, you can ask your hosting provider to install it for you.
We hope this article helped you understand what is SSL, why you need one, how does SSL work, and more. For more details, see our related guides below.
This post was originally published in the wpbeginner glossary.
Additional Reading