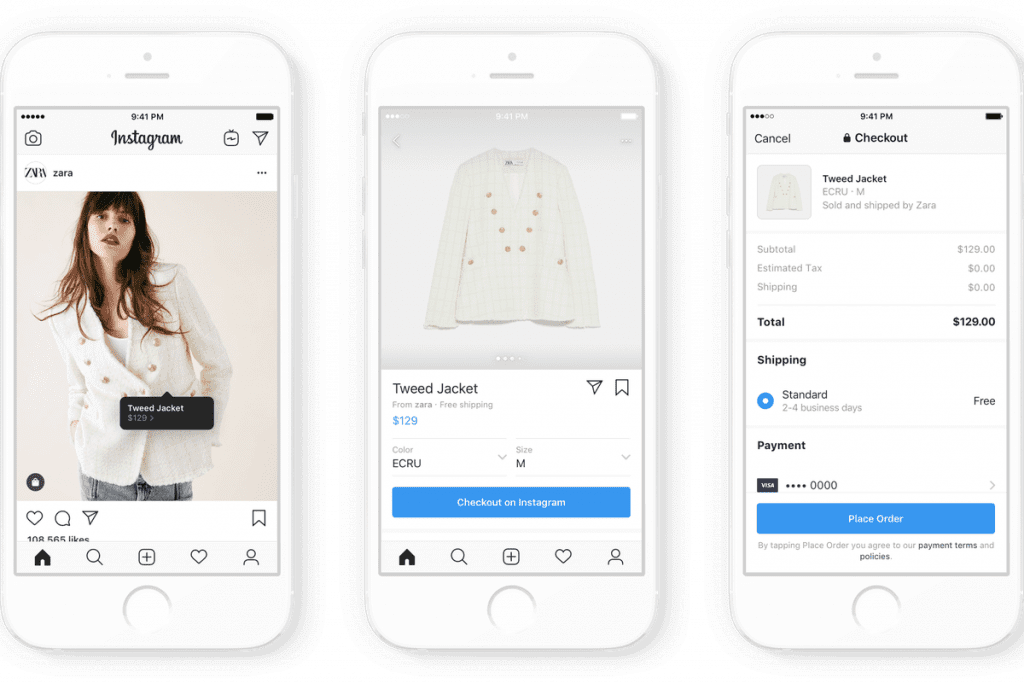 Instagram Checkout: What You Need to Know
September 3, 2020 by Troy
To all those impulse buyers out there: Instagram Checkout is here and now available to all eligible businesses, creators, and artists in the USA!
With users now able to buy items directly from the app, Instagram will become the home of discovery purchases. We can all admit to scrolling through Instagram and then finding that Shark Tank gadget we never knew we needed. Tap the screen. It's yours! How about those eco-conscious sweatpants? Yours. Those custom designed wine stoppers? You guessed it. Yours. 
What is Instagram Checkout?
With Instagram Checkout, your customers can tap to view a product from a shoppable post and then continue to the payment process, all within Instagram. All they have to do is enter their name, email, billing information, and shipping address the first time they check out.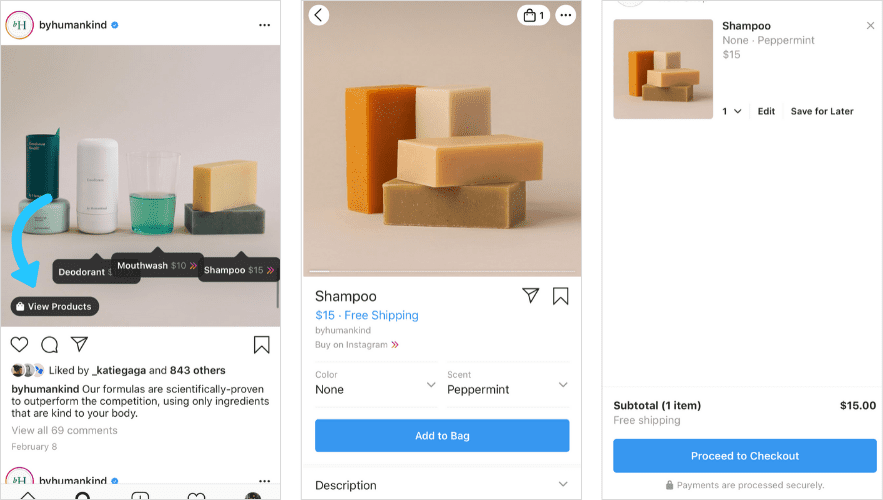 With every customer interaction, you want to reduce the friction in getting them from discovery to purchase. This process eliminates that dreaded download time of switching to another site giving the buyer an opportunity to second guess the authenticity of the site and even if they still want the product. With everything mainstreamed in the same app, customers are more comfortable and trusting in their purchase.
Instagram has also already made it possible for influencers and content creators to drive sales through checkout on behalf of brands — creating a complete e-commerce marketplace. Instagram checkout allows viewers to go from browsing to buying your product in just a couple easy and fast taps, resulting in a happy and seamless experience for both seller and buyer.
As a business owner, we want more than anything to make our lives easier and continue to grow our business. On the flip side as buyers, we want to purchase what we "need" and not waste a lot of time doing it. Instagram Checkout even gives updates on customer orders so they don't have to keep checking their door for your delivery or wondering how far away their order is. Keeping the customer happy in the whole buying process is the key to success and bringing that customer back for more.
A Few Tips To Increase Conversions
Here are few tips that can help increase your sale numbers while using Instagram Checkout:
Provide Multiple Ways to Shop: Instagram's shopping tools are a great way to streamline the route to purchase for your audience, but it's still a good idea to create as many opportunities as possible to drive conversions for your brand. In addition to tagging products in your posts, direct people to your site in your Bio. You can also include product codes in your posts if you have a big shop to make it easy for people to find exactly what they want. By creating multiple opportunities for sales, you will drive consumers to your brand and keep them coming back for more!
Offer An Exclusive Product Drop: Either offer a product, exclusive line, or special discount offer for a short period of time on Instagram to drive a larger audience and hype to your brand. This rewards your community on Instagram and can drive engagement with new users.
Be Consistent with Product Tags: By consistently adding tags to every Instagram post, your audience will soon connect that they can find product details and shop just by tapping on your posts. You can also add a call-to-action in your captions like "Tap to Shop!" As with most strategies on Instagram, consistency is key.
Use Shoppable Story Stickers: Much like tagging a product to an Instagram feed post, product stickers create a direct route for viewers to browse and buy your products from your stories. How much more convenient can it get? You're viewing a story, see something you like, tap – it's yours!

Team Up with Influencers: In 2019, Instagram launched Shopping from Creators, which allows influencers, artists, and celebrities to add shopping tags to their posts. This allows well-known people to tag products in their posts and drive more buyers to your brand.
Instagram Checkout offers many benefits and another way to expand your audience (and hopefully your revenue). It won't replace your online shop, but it can be used as a discovery tool for your customers and for new customers. Utilize these tips to set your business up for more sales and a greater reach.
If you need any help setting up your Instagram shop or connecting it to your website, we're here to help! Click here to contact us today.