What is: Custom Fields
January 16, 2020 by Troy
Custom fields, also referred to as post meta, is a feature in WordPress which allows users to add additional information when writing a post. WordPress stores this information as meta data. Users can display this meta data by using template tags in their WordPress themes.
Examples of custom fields can be:
Music you are Listening to while writing the post
Rating that you might want to add for a product that you were reviewing
Or anything else that you can think of
Custom fields are hidden by default. If you want to make the custom fields box visible on your post edit screen, then you need to click on Screen Options button on the top right corner of your admin screen. In the menu, simply check "Custom Fields" checkbox.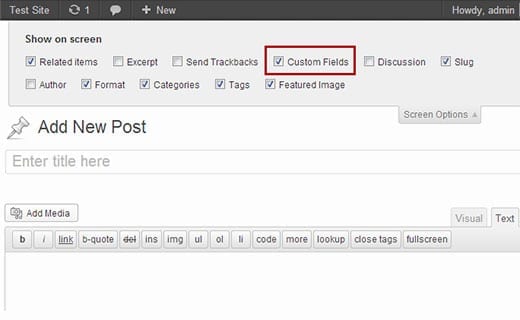 This feature was built for theme designers and developers, so they can extend the power of WordPress. Different themes and plugins use them to store additional post related information. For example: your SEO meta data that you add for each field using a plugin or theme is custom fields.
Developers can even create pretty write-panels, so users don't have to deal with the custom fields user interface (IDs and values). If you look in the additional readings section, we have mentioned some really resourceful articles that will expand on WordPress custom fields.
This post was originally published in the wpbeginner glossary.
Additional Reading